Whether admiring the Golden Age gables of the old city centre or marvelling at the sleek skylines of the new Zuidas and harbour areas, you will see that we pride ourselves on our rich history while keeping focused on the future. Creative energy and innovation abound here, and only strengthen the established international business community.
Photo credit: Xinyi Li
Home to some of the world's most acclaimed artistic works, more canals than Venice, more bridges than Paris and nearly 7,000 monumental buildings, our compact floating city offers a buffet of historic and cultural treasures. It is no wonder Amsterdam's city centre is a nominee for UNESCO's World Heritage list.
Photo credit: Xinyi Li
Photo credit: Xinyi Li
Maybe you will visit our world-famous diamond factories, discover the city's tradition as a jazz-music hub, or simply soak up the local nightlife in a casual café. Whatever you choose, we hope you experience our vibrant, open spirit.
Amsterdam, accessible and compact
The city of Amsterdam is a national and international junction. The main airport, Amsterdam Airport Schiphol, is considered one of the best in the world and is just 20 minutes from the city centre. Amsterdam's compact city centre makes for outstanding public transport service and means that most facilities and sights are within walking distance of each other. Amsterdam's network of canals also offers the unique opportunity to transport your delegates on the water.
Amsterdam historic heart
Amsterdam was founded in the Middle Ages near a dam on the Amstel River. The city truly blossomed in the early 17th century, when it became the world's largest centre for trade and art. The historic heart of the city, known as the Grachtengordel (canal ring), has remained beautifully intact to this day. But this area is not just a preserved open-air museum; it is the functional and friendly heart of the city, where locals and visitors alike create a vibrant energy.
Photo credit: Xinyi Li
Photo credit: Xinyi Li
Amsterdam outstanding culture
The Netherlands' capital city has been a centre of creativity and culture for centuries. Works of the 17th-century Dutch Masters Rembrandt and Vermeer grace the walls of the Rijksmuseum. The Van Gogh Museum houses the world's largest collection of the artist's masterpieces. The Stedelijk Museum is a world-renowned bastion of modern and contemporary art. Other cultural treasures include Anne Frank's House, where the young Jewish girl hid from Nazis and penned her now-famous diary. The baroque Royal Palace on Dam Square, the Rembrandt House and the newly expanded Hermitage Amsterdam are just a few more of Amsterdam's trove of offerings, sure to satisfy the cultural palate of the most discerning visitor.
Amsterdam dazzling night life
Amsterdam is home to a plethora of bars, nightclubs and cafés. Find a cosy neighbourhood atmosphere in authentic 18th- and 19th-century pub-like 'brown cafés' on every corner. Or opt for one of their contemporary counterparts, the designer grand cafés and sleek lounge bars. A well-known hub of dance music, Amsterdam attracts some of the world's top DJs to its trendy nightclubs. The most popular nightlife areas Leidseplein and Rembrandtplein have something for everyone, from mellow jazz and blues cafés to late-night bars and a large casino. Or discover a local-favourite haunt by wandering just off the beaten path. Amsterdam's compact size means most nightlife venues are within walking distance of each other.
Photo credit: Xinyi Li
Amsterdam Striking events
Some 30 to 40 festivals take place in Amsterdam each year, many of which attract world acclaim. The Holland Festival showcases the very best in theatre, opera and ballet; the Grachtenfestival (Canal Festival) features classical music played on floating stages; the Amsterdam Fantastic Film Festival screens art-house to mainstream masterpieces; and Uitmarkt opens the annual performing-arts season with free previews on outdoor stages across the city. There are also several weekly events, including football matches at the futuristic Amsterdam ArenA Stadium, where you can join fans in supporting our home team Amsterdam Ajax.
Amsterdam superb surroundings
Many people think of the Netherlands as the land of tulips and windmills. In just 15 minutes from the centre of Amsterdam you can experience these idyllic scenes. The fishing villages of Marken and Volendam are open-air museums with an unrivalled display of authentic Dutch houses and windmills. Springtime visitors can tour the spectacular bulb fields or take in millions of blooming flowers at the world's most photographed location: the Keukenhof.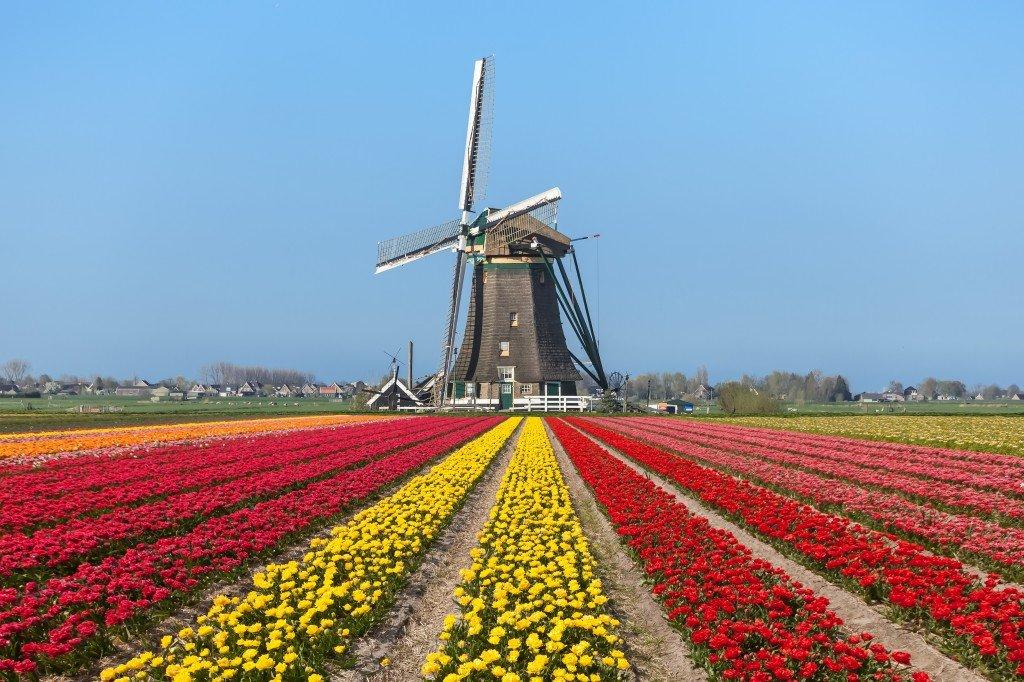 Photo borrowed from here
Amsterdam colourful people
Amsterdam has always stood out among other European capitals. During the 17th-century 'Golden Age', the city distinguished itself as the leading hub of trade and art; in the 1960s it emerged as Europe's 'magical centre'. People are what have made Amsterdam the unique city it is, one with a character that's highly individual, spirited and young-at-heart. Amsterdammers are traditionally friendly, tolerant and cosmopolitan by nature; it's no coincidence that most speak at least two languages (English is almost always one of them). With 174 different cultures, Amsterdam is one of the top three most diverse cities in the world.
Photo credit: Xinyi Li